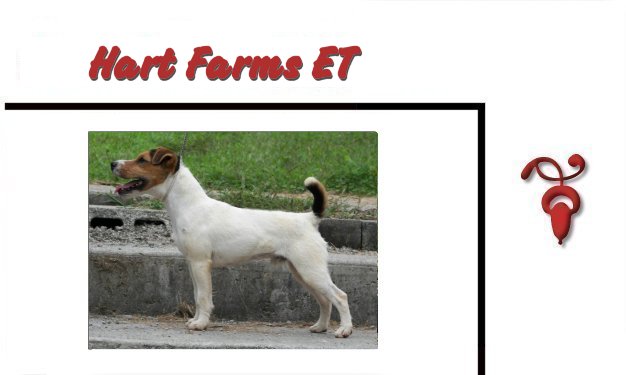 Sire: Hart Farms Abraham
Dam: Hart Farms Ooze
DOB: June 24, 2014
Height/Color/Coat: 12", Tri, Broken Coat
BAER, PLL, SCA, DM: Normal / EYES: OFA Clear 3/2019
NHC: Groundhog, Opossum & Raccoon - Bronze Medallion

ET is an exceptional hunting terrier with total focus and no back
up! He is small enough to get anywhere. ET moves beautifully
and has awesome structure for a 12" terrier!
* ET is expecting a litter of puppies by Hart Farms Bella on July 6, 2019.
* Producer of Hart Farms Caycee: Before the age of 2, earner of USDAA
Standard Agility Title and Starters Jumpers Title!


ET with a groundhog that out
weighed him and was bigger
than he is! What a pleasure
it is to have a terrier that you
can depend on in any situation!


Hart Farms Caycee (11 1/2")
(Picture above and to the right)
Before the age of 2 has earned her USDAA
Title in Standard Agility and Starters
Jumpers!
Congratulations Ann Fitzgerald.